Porsche 991 Carrera 2 Carrera 4 , Turbo, GT3, GT3 RS Exhaust Manifold Stud Drill Jig Kit
Porsche 991 Carrera 2 Carrera 4 , Turbo, GT3, GT3 RS Exhaust Manifold Stud Drill Jig Kit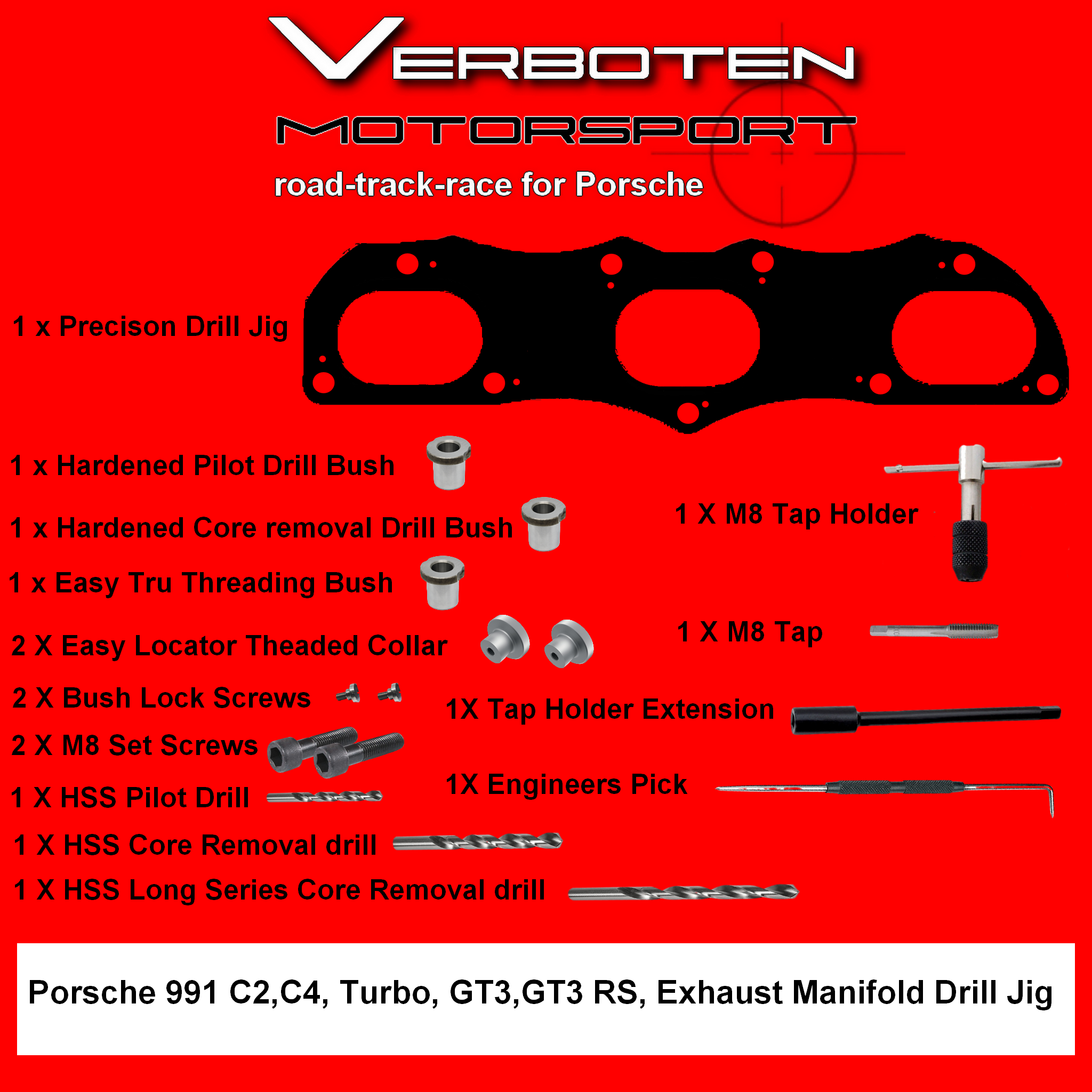 Verboten-Motorsport
Porsche 991 Carrera 2  Carrera 4 , Turbo, GT3, GT3 RS  Exhaust Manifold Stud Drill Jig Kit  
This well designed kit enables you to remove and re-thread the Exhaust manifold studs without going through the pain of engine removal.
Having carried out a number of manifold removals we have created this kit to overcome the issues that are faced.
The kit comprises of a precision CNC machined drill jig. Its lightweight but robust to ensure your arms are as less stressed as possible when initially holding it in place.
We supply two Easy Locator theaded collars to either locate on the remains of broken off studs or from the threaded hole that remains after the occassional successful stud removal.
The kit contains a hardened pilot hole drill bush that also locates over the remains of a exhaust stud if required. Used in conjunction with the supplied pilot drill enables a pilot hole to be drilled in the stud remains. The drill bush is held in by the supplied drill bush locking screw. 
Once the pilot hole is successfully drilled, the Pilot hole drill bush is replaced with the hardened Core Removal drill bush and again tightened down using the drill bush locking screw.  After checking the correct depth the core of the exhaust stud is drilled out.
The remains of the stud can now be worked out using needle plyers and the supplied engineers pick.
Once the stud remains have been removed remove the Core removal Drill Bush from the Jig and insert  the supplied Easy Tru Tap Bush and the supplied M8 Tap to chase out the thread. Us the Easy Tru Tap Bush only until you have got the M8 Tap in three full turns. This ensures the tap is cutting the thread true to the perpendicular and center of the hole. Tap down to the required depth. The Tap extension and long series Core Removal drill have been suppled to ensure all holes can be reached due to possible componets being in the way on the furthest studs. 
Ensure hole depths are measures prior to drilling and use a drill/tapping lubricant to cool and lubricate the drills and tap. Wear safety glasses as when working under a engine gravity tends to pull all loose debris into your eyes !